BUSINESS ACCOUNTING AND TAXATION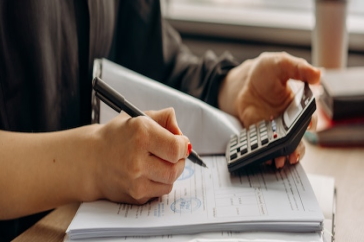 Business accounting and Taxation course in Chandigarh is designed to give you in depth understanding of accounting and taxation rules.
Business accounting is the process of recording, analyzing, and interpreting financial transactions of a business. It involves preparing financial statements, such as income statements, balance sheets, and cash flow statements, to provide a clear picture of a business's financial performance. Understanding accounting principles is essential for any business owner or manager to make informed decisions. Taxation is the study of the tax system and the regulations that govern it. It includes understanding the different types of taxes that businesses may be subject to, such as income tax, sales tax, and payroll tax. Knowledge of tax laws and regulations is necessary for businesses to ensure compliance and minimize their tax liabilities.
Join Business accounting and Taxation course in Chandigarh with GB training & placement centre.
Course content
Chapter 1. Fundamentals of accounting
Introduction
Accounting Terms
Accounting Assumptions, Concepts and Principles
Assumptions
Concepts
Principles
Double Entry System of Accounting
Types of Accounts
The Golden Rules of Accounting
Source Documents for Accounting
Recording of Business Transactions
The Accounting Equation
Recording of Transactions in Books of Original Entry/Journal
Use of Debit and Credit
Rules of Debit and Credit
Recording of Business Transactions in Journal
Ledger
Need for Ledger
Differences between a Journal and a Ledger
Classification of Ledger Accounts
Posting from Journal
Trial Balance
Methods of Preparation
Subsidiary Books & Control Accounts
Cash Book
Single Column Cash Book
Double Column Cash Book
Three Column Cash Book
Petty Cash Book
Purchase (Journal) Book
Purchases Return (Journal) Book
Sales (Journal) Book
Sales Return (Journal) Book
Journal Proper
Control Accounts
Financial Statements
Trading and Profit & Loss Account
Trading Account
Profit & Loss Account
Balance Sheet
Types of Assets and Liabilities included in a Balance Sheet
Key Takeaways
Chapter 2. Tally Prime
Introduction
Getting Started with Tally Prime
Mouse/Keyboard Conventions
Company Creation
Shut a Company
Select a Company
Alter Company Details
Company Features and Configurations
F11: Company Features
F12: Configuration
Chart of Accounts
Ledger Group
Ledger Creation
Single Ledger Creation
Multi Ledger Creation
Altering and Displaying Ledgers
Group Creation
Single Group Creation
Multiple Group Creation
Displaying Groups and Ledgers
Displaying Groups
Display of Ledgers
Deletion of Groups and Ledgers
Key Takeaways
Chapter 3. Maintaining Stock Keeping Units (SKU)
Introduction
Inventory Masters in Tally Prime
Creating Inventory Masters
Creation of Stock Group
Creation of Units of Measure
Creation of Stock Item
Creation of Godown
Defining of Stock Opening Balance in Tally Prime
Stock Category
Reports
Key Takeaways
Chapter 4. Recording Day-to-Day Transactions in Tally Prime
Introduction
Business Transactions
Source Document for Voucher
Recording Transactions in Tally Prime
Accounting Vouchers
Receipt Voucher (F6)
Contra Voucher (F4)
Payment Voucher (F5)
Purchase Voucher (F9)
Sales Voucher (F8)
Debit Note Voucher
Credit Note (Ctrl+F8)
Journal Voucher (F7)
Key Takeaways
Chapter 5. Accounts Receivable and Payable
Chapter 6. MIS Reports
Introduction
Trial Balance
Balance Sheet
Profit and Loss Account
Cash Flow Statement
Ratio Analysis
Books and Reports
Day Book
Receipts and Payments
Purchase Register
Sales Register
Bills Receivable and Bills Payable
Key Takeaways
Chapter 7. Goods and Services Tax (GST) in Tally
Introduction
Goods and Services tax (GST)
Key Takeaways
Chapter 8. Recording Vouchers with TDS (Tax Deducted at Source)
Introduction
Basic Concepts of TDS
TDS in Tally
Activation of TDS Feature in Tally Prime
TDS Statutory Masters
Configuring TDS at Group Level
Configuring TDS at Ledger Level
Booking of Expenses in Purchase Voucher
TDS Report
Do you need any help?
Just fill the following form to send a message to us and we will get back to you soon.